QUALITY MANAGEMENT
QUALITY ASSURANCE
Quality Assurance with Medichem is a fundamental and important aspect in our cGMP compliant production of APIs. Our Quality System Management and up to date manufacturing techniques guarantee the consistent high quality of production through strict cGMP compliance.
Medichem is strongly committed to: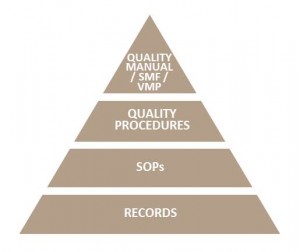 Total Quality principles
Current Good Manufacturing Practice (cGMP) standards
Fulfilling the most demanding customer and regulatory requirements
The best available technologies
Respect for the environment
A people-oriented internal culture
HEALTH AUTHORITIES INSPECTIONS
EU GMP certificates were granted of all our plants in Spain and Malta issued by the corresponding Medicines Agency.
Medichem's plants have received periodic US FDA inspections with satisfactory results since 1985. Both API's manufacturing plants (Celrà and Malta plants) have no "Form 483" records underlining our commitment to the highest quality:
Celrà plant: No "Form 483" was issued (no observation was noted) during the last six consecutive FDA inspections at Medichem's Spanish plant (1999, 2002, 2006, 2009, 2012 and at the last inspection in April 2015).
Malta Plant: No "Form 483" was issued (no observation was noted) during the last two consecutive FDA inspections (2012 and at the last inspection in February 2015).
The first ANDA submission of our FDF's manufacturing plant (Malta Plant) was in 2016.
CLIENT AUDITS
We have received more than 100 customer audits during the last four years in our different production plants which help us to continually improve practices and maintain our high GMP level.
VALIDATION POLICY
GMPs are strictly adhered to, and significant resources (human and economic) are devoted to the validation effort. Our validation policy is supported by our VMP (Validation Master Plan). Manufacturing processes, analytical and cleaning methods are fully validated. Critical systems are also validated and equipment is qualified. Quality risk management principles are applied to facilitate the development effort and quality improvement.
PARTICIPATION IN SECTOR FORUMS
Medichem's officers participate as members of national and international organizations:
CEFIC – APIC: Active Pharmaceutical Ingredients Committee
EGA: European Generics Association
EFCG European Fine Chemicals Group
AFAQUIM: Asociación Española de Fabricantes de Productos de Química Fina
FEIQUE: Federación Empresarial de la Industria Química Española
FEDEQUIM: Federación Empresarial Catalana del Sector Químico
Malta Chamber of Commerce, Enterprise and Industry
COASHIQ: Comisión Autónoma de Seguridad e Higiene en el Trabajo de Industrias Químicas y Afines
COOPERATION WITH PHARMACOPOEIAS
Medichem collaborates with the United States and European Pharmacopoeias (USP, EP) in the following manners:
Supply of product reference standards
Review of analytical methods and, if necessary, proposal of improvements
Participation in Expert Groups of the EP and USP